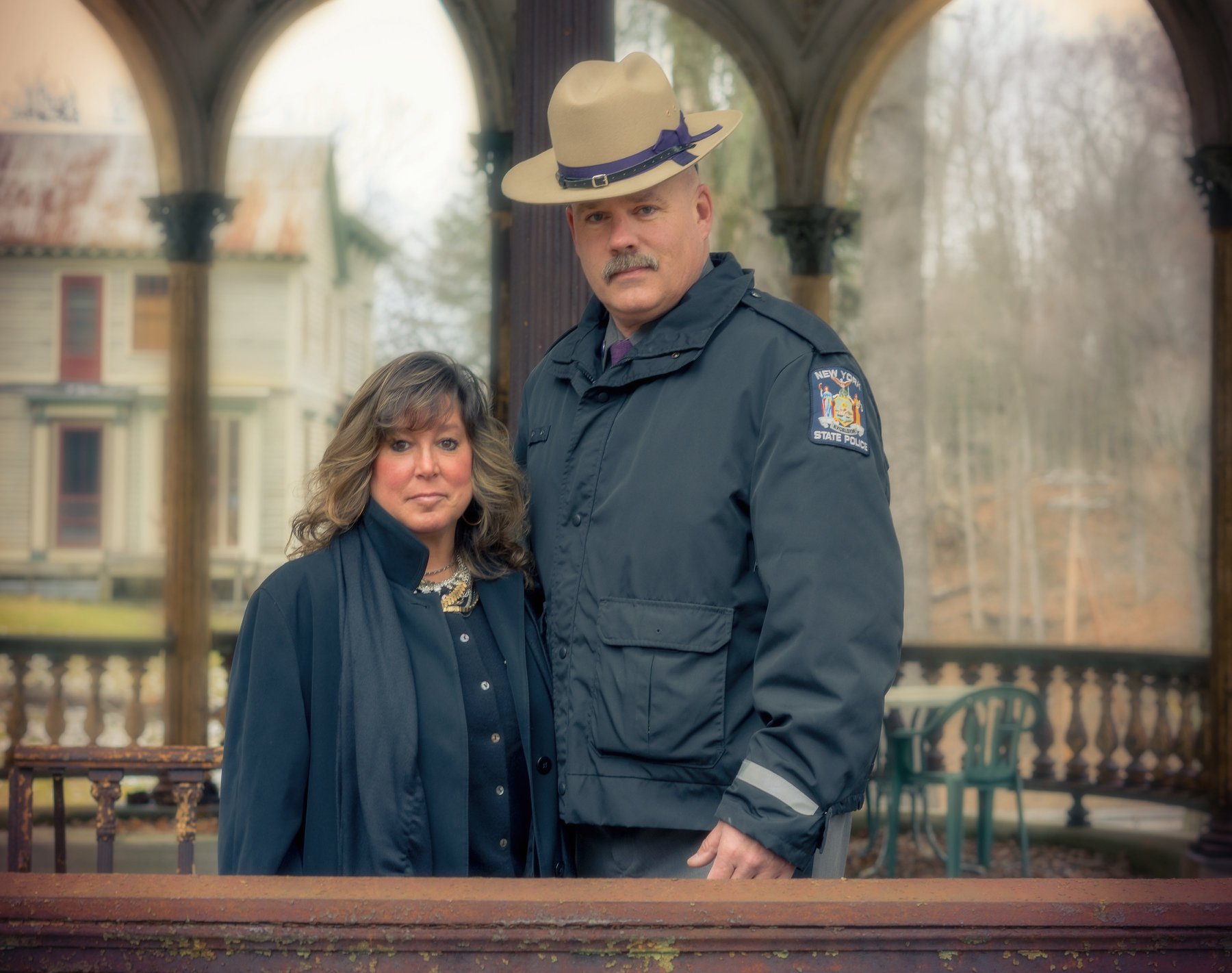 HFA Hero: Alexander B. Johnstone III
I'll get it out there now. Up front. Alexander 'Chip' Johnstone, State Trooper with the New York State Police, was NOT one of the initial First Responders to sign up for Run 4 The Hills for First Responders "Duty Gear Challenge" in 2017, but has turned out to be a FAVORITE alum! Johnstone is a Veteran Law Enforcement Officer with over thirty years of service to his credit, spending the last twenty-nine plus years with the New York State Police. Retiring in just days, Chip is participating in his last Duty Gear Challenge on Saturday, May 5th, on the grueling hills of Sharon Springs.
Born in Englewood, New Jersey, Chip's family moved to Upstate New York when he was a toddler. Graduating from the Sharon Springs School District in 1983, Johnstone had always admired his Uncle Thomas Prime, who was a career Police Officer in Demarest, New Jersey. That, coupled with a great respect of the Law Enforcement Officers he met growing up, set his career path goal; to join the brotherhood of the New York State Police. Following college time at SUNY Brockport, he began his Law Enforcement career at the Schoharie County Sheriff's Department as a Corrections Deputy in the County Facility. Later, he took the State Police entrance exam.
Johnstone passed and entered the Academy in September of 1988. It was a grueling twenty-four weeks, described as a para-military experience in which recruits are trained in a classroom environment, taught strict discipline, physical challenge and teamwork. "The Academy taught us how to push ourselves physically and mentally. It is a college level education in a boot camp atmosphere". He completed the Academy successfully in March of 1989 and graduated as a State Trooper with New York State Police.
Trooper Johnstone's career began at SP Herkimer for twelve weeks of field training; his first official assignment was SP Morrisville, in Madison County, Troop D. SP West Winfield followed, in Herkimer County for two years. Troop G (home), was the next stop where he worked patrol and interstate assignments. Trooper Johnstone became a Field Training Officer (FTO), and later attended and completed the NYSP Emergency Vehicle Operating course to become an EVOC Instructor, for years teaching NYSP recruits the special driving skills required to operate a vehicle under very demanding police patrol conditions.
In 2004, Johnstone accepted a position as a School Resource Officer (SRO) and was assigned to his alma mater Sharon Springs, and the Duanesburg School District. He enjoyed working in the two schools for seven years, often teaching classes at neighboring Districts when needed, before the State of New York ended the program. Back at SP Cobleskill, Trooper Johnstone later accepted a position working out of SP Latham on the TIM Detail, Traffic Incident Management. The TIM Detail is responsible for monitoring highway construction and work zones through troop G, they conduct level 2 and 3 commercial vehicle inspections and assist that unit whenever needed. They frequently are called upon to conduct oversize vehicle escorts and are responsible for dignitary and VIP visits to the Capital District/Albany Area.
Finally, some of the most memorable moments in Johnstone's thirty plus years were when he was sent to Ground Zero in New York City, hours after the 911 tragedy began. "I had the opportunity to see people of one of the most diverse cities in the world come together for a cause helping other people, often random strangers. The 911 Detail was one of the worst experiences of my career, but also one of the best. The human spirit is resilient and humbling. I was part of the team escorting family members through Ground Zero, assisting them in any way the NYSP Agency could. The humbling task of guiding loved ones to hallowed ground where their family had spent final moments still resonates. It is a time I won't ever forget."
The 2018 Run 4 The Hills For First Responders looms, and the question asked… What was the hesitation to be a part of the Duty Gear Challenge? "It's no easy course. 4 miles of steep hills in turnout gear was LESS than appealing to me. My wife serves on the Board of Directors, and Secretary of Hero Fund America, she was just relentless, and would not take 'no' for an answer. After several months, I finally gave in. Completing that Challenge was a proud moment in my life; and I did it with her by my side. The camaraderie is amazing! This year it is with great pleasure and pride that I do it again for the last time. The event is not only inspiring, all participating are proud, along with the community and civilian participants cheering us on. It brings awareness to the plight of all First Responders that often are lacking in the latest state-of-the-art rescue equipment and the most up-to-date training. It's my responsibility to help my wife and members of Hero Fund America spread this message."
Chip and his wife Patty live in Sharon Springs, New York, and are actively involved in the community. Between them, they share four children, Ashley, Samantha, Alex and Matthew. Chip had hip replacement surgery on March 1, 2018, in preparation for his last Run 4 The Hills for First Responders held on Saturday, May 5th. He is looking forward to the camaraderie and spirit of the morning and seeing his fellow First Responders tackle the cranky hills of Sharon Springs.
Our team at Hero Fund America and Run 4 The Hills is proud of Trooper Alexander 'Chip' Johnstone's long career with the New York State Police, and we wish him the best in retirement!
Being founded and grounded in service to emergency responders is central to the purpose of Hero Fund America. The HFA Fund provides grants which benefit the education, training, and certification programs for first responders.